ISU-ISU PENYUNTINGAN TERJEMAHAN MESIN DALAM KARYA SASTERA TERPILIH
EDITING ISSUES IN MACHINE TRANSLATIONS OF SELECTED LITERARY WORK
Abstract
Abstract
Good literary work can be gleaned from a structured and rigorous editing process. However, technological advancement has resulted in machines editing the works instead of bearing the human touch. Previous studies have examined various aspects of a literary work and their translations, but studies on machine translations for such works are limited. Therefore, this study examines language and cultural issues arising from two machine-edited literary works. The data was retrieved from two novels, Things Fall Apart by Chinua Achebe and Memoirs of A Geisha by Arthur Golden, which were then analysed using a combined framework of revision parameters by Mossop (2020) and five cultural categories by Newmark (1988). The framework was supported by ultimate Malay language references, the Tatabahasa Dewan (2004) and Gaya Dewan (2018), which provided language and style editing information because the selected
works involved their Malay translations. The findings of this study proved that machine translations could expedite the translation of literary works into various languages and cultures. However, an editor must still refine the products of such a process to attain better-translated works. Some language and cultural factors that cropped up and required further editing include words such as proper nouns, tenses and grammar, and translation of cultural elements, such as figures of speech, taboo words and songs. This study proved that local and international literary works could be shared quickly using machine translation, but the process must be followed by further refinements made by a human editor.
Keywords: editing, machine translation, literary works, language, culture.
Abstrak
Karya sastera yang baik terhasil daripada proses penyuntingan yang kemas dan rapi. Faktor kemajuan teknologi membuatkan proses penyuntingan yang melibatkan manusia telah beralih kepada mesin. Walaupun terdapat kajian lepas yang mengkaji pelbagai aspek karya sastera dan penterjemahan karya sastera, skop kajian tentang penyuntingan hasil terjemahan mesin bagi karya sastera masih belum dikaji dengan mendalam. Oleh itu, makalah ini bertujuan meneliti isu bahasa dan budaya dalam penyuntingan hasil terjemahan mesin bagi dua karya sastera terpilih. Data kajian terdiri daripada novel Things Fall Apart oleh Chinua Achebe dan Memoirs of A Geisha oleh Arthur Golden. Pandangan sarjana Mossop (2020) menerusi parameter penyemakan dan lima kategori budaya Newmark (1988) dimanfaatkan sebagai kerangka pendekatan dalam menganalisis data terjemahan mesin. Selain itu, Tatabahasa Dewan (2004) dan Gaya Dewan (2018) dimanfaatkan dalam penyuntingan bahasa dan gaya oleh sebab novel kajian melibatkan terjemahan dalam bahasa Melayu. Dapatan kajian membuktikan terjemahan mesin sememangnya membantu dalam mempercepatkan proses penterjemahan karya sastera dalam pelbagai bahasa dan kebudayaan. Namun, analisis juga memberikan maklumat tambahan bahawa hasil terjemahan mesin masih perlu disunting bagi pemurnian karya sastera. Antara isu bahasa dan budaya yang memerlukan penyuntingan ialah kata nama khas, unsur kala, tatabahasa dan penterjemahan elemen budaya seperti kiasan, kata pantangan dan lagu. Implikasi kajian ini adalah karya sastera tempatan dan antarabangsa dapat disebarluaskan dengan pantas menerusi
penterjemahan mesin, namun proses ini perlu disertakan dengan amalan penyuntingan oleh manusia yang tepat dan tersusun.
Kata Kunci: penyuntingan, terjemahan mesin, karya sastera, bahasa, budaya.
Downloads
Download data is not yet available.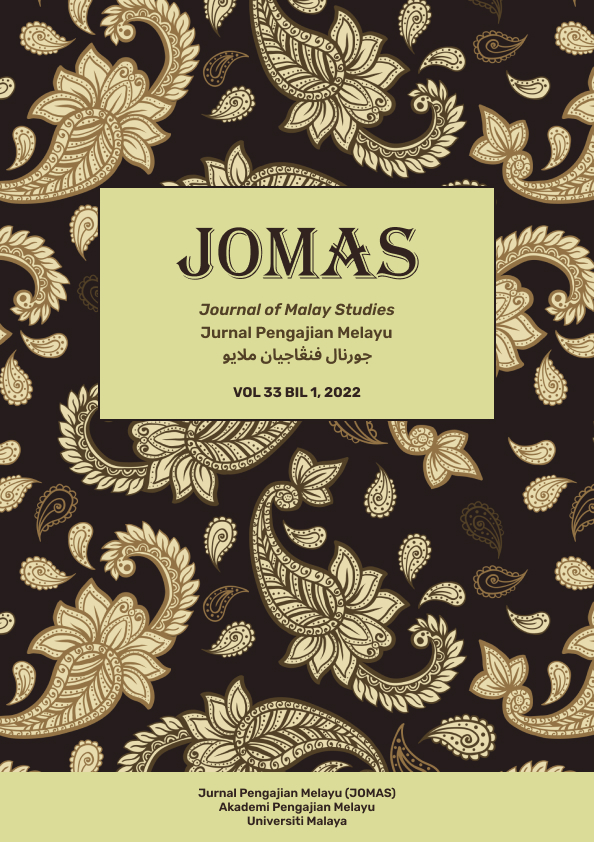 Downloads
How to Cite
Anis Shahirah Abdul Sukur, & Rosnidar Ain. (2022). ISU-ISU PENYUNTINGAN TERJEMAHAN MESIN DALAM KARYA SASTERA TERPILIH: EDITING ISSUES IN MACHINE TRANSLATIONS OF SELECTED LITERARY WORK. Jurnal Pengajian Melayu (JOMAS), 33(1), 17–38. Retrieved from https://ejournal.um.edu.my/index.php/JPM/article/view/36428