ANALISIS PERISTIWA TUTUR MODEL SPEAKING HYMES (1972) DALAM SIDANG MEDIA COVID-19 NEGARA BRUNEI DARUSSALAM
ANALYSIS OF SPEECH EVENTS USING THE HYMES (1972) SPEAKING MODEL IN COVID-19 PRESS CONFERENCES OF BRUNEI DARUSSALAM
Abstract
ABSTRACT
The daily press conferences on COVID-19 infection updates in Brunei titled Sidang Media Status Terkini Jangkitan COVID-19 Negara Brunei Darussalam have been a platform for the public to access information on the pandemic. Using Hymes's (1972) SPEAKING model, this study aims to examine speech incidences and their similarities and differences during the conference and subsequent question-and-answer (Q&A)s between the media and ministries. The study utilised the qualitative descriptive method by analysing data retrieved from the Q&A transcripts between the journalists and ministries. These transcripts were produced from live telecasts of the conferences via Radio Televisyen Brunei (RTB). The journalists covered in this study came from agencies such as The Scoop, Shianghuan Residency, The Bruneian, @ranoadidas, RTB and Borneo Bulletin. The findings of the study proved that the SPEAKING model was highly effective in examining various speech events and their similarities and differences in the Q&As. Six components of SPEAKING showed similarities – the setting and scene, participants, ends, instrumentalities, norms and genres. However, the balance two components, act sequences and key, demonstrated specific differences. The component of instrumentalities was also placed under further investigation because there were similarities detected during the conversations and differences in language use. In this case, the phenomenon of varied code-switching that occurred was identified in the data. Results showed that there were implicit elements in the questions asked. Overall, utterances in the conferences fulfilled all aspects of the SPEAKING model; hence, the Q&A could be
easily followed by the audience. As such, all eight components of the model were found to have contributed to the speech incidences. Consequently, the study can measure an individual's interacting abilities and competence in communicating and understanding societal norms.
Keywords: press conference, COVID-19, speech events, language, question
ABSTRAK
Sidang Media Situasi Terkini Jangkitan COVID-19 Negara Brunei Darussalam menjadi platform untuk menyampaikan maklumat kepada masyarakat mengenai status terkini jangkitan COVID-19 di Negara Brunei Darussalam. Kajian ini mendeskripsikan peristiwa tutur dengan menggunakan Model SPEAKING oleh Hymes (1972) serta membandingkan persamaan dan perbezaan peristiwa tutur daripada setiap agensi penyiaran semasa sesi soal jawab bersama pihak kementerian berlangsung. Kajian ini menggunakan kaedah kualitatif
deskriptif dengan menganalisis data kajian berbentuk transkripsi sesi soal jawab antara pihak wartawan dengan pihak kementerian. Data telah dikumpulkan daripada tayangan sidang media COVID-19 yang diadakan pada setiap hari di Radio Televisyen Brunei (RTB) melalui siaran langsung. Pihak wartawan mewakili agensi media The Scoop, Shianghuan Residency, The Bruneian, @ranoadidas, Radio Televisyen Brunei dan Borneo Bulletin. Dapatan kajian menunjukkan bahawa keberkesanan dalam memahami peristiwa tutur menggunakan model SPEAKING ialah dengan meneliti persamaan dan perbezaan aspek yang digunakan semasa pertuturan berlangsung, iaitu semasa sesi soal jawab diadakan. Dapatan kajian menunjukkan terdapat enam komponen yang mengandungi persamaan, iaitu Setting dan Scene, Participants, Ends, Instrumentalities, Norms dan Genre. Dua komponen yang mengandungi
perbezaan pula ialah Act Sequences dan Key. Komponen Instrumentalities juga dibandingkan kerana terdapat persamaan aspek saranan perbualan, namun berbeza daripada aspek penggunaan bahasanya. Dalam hal ini, perbezaan peralihan kod bahasa telah dikenal pasti semasa ujaran berlangsung. Hasil kajian juga mendapati wujudnya unsur-unsur implisit dalam soalan-soalan yang diajukan. Kesimpulannya, peristiwa tutur dalam sidang media tersebut telah menepati kesemua komponen model SPEAKING dan kelangsungan sesi soal jawab dapat diikuti oleh pendengar. Oleh itu, kelapan-lapan aspek dalam model SPEAKING didapati menyumbang kepada proses peristiwa tutur semasa Sidang Media Situasi Terkini Jangkitan COVID-19 Negara Brunei Darussalam. Implikasi kajian ini bukan hanya mengukur keupayaan individu dalam interaksi, tetapi kecekapan dalam berkomunikasi dan kefahaman yang baik tentang norma sosial turut diambil kira.
Kata kunci: sidang media, COVID-19, peristiwa tutur, bahasa, soal jawab.
Downloads
Download data is not yet available.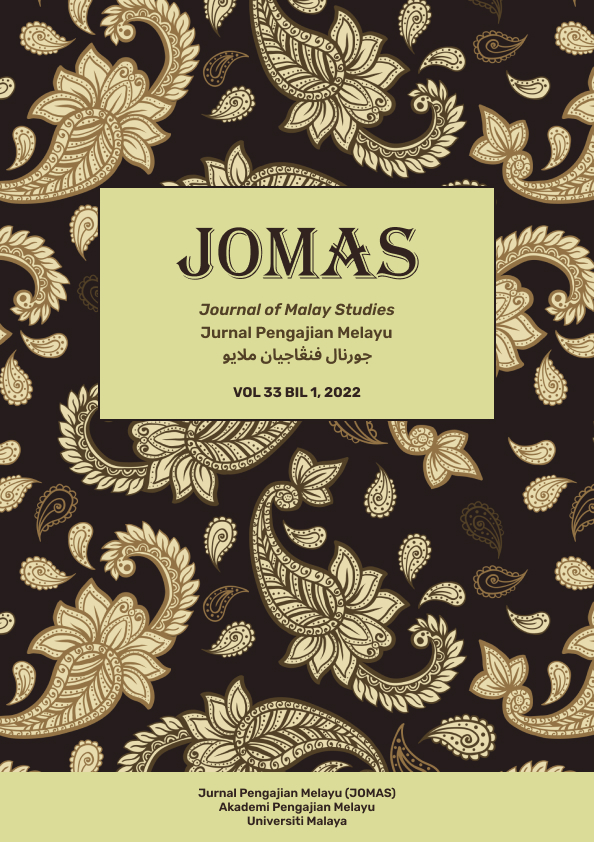 Downloads
How to Cite
Elmy Maswandi, Zulfadzlee Zulkiflee, & Wafiqah Asnola. (2022). ANALISIS PERISTIWA TUTUR MODEL SPEAKING HYMES (1972) DALAM SIDANG MEDIA COVID-19 NEGARA BRUNEI DARUSSALAM: ANALYSIS OF SPEECH EVENTS USING THE HYMES (1972) SPEAKING MODEL IN COVID-19 PRESS CONFERENCES OF BRUNEI DARUSSALAM. Jurnal Pengajian Melayu (JOMAS), 33(1), 39–54. Retrieved from https://ejournal.um.edu.my/index.php/JPM/article/view/36429