KNOWLEDGE, ATTITUDE, AND PRACTICE REGARDING EXERCISE AND EXERGAMES' EXPERIENCES AMONG HIGH-SCHOOL STUDENTS IN PULAU PINANG, MALAYSIA
Received 2022-04-13; Accepted 2022-10-29; Published 2022-12-31
Abstract
This cross-sectional study aims to investigate high-school students' experiences with exergames, their knowledge, attitudes, and practice of exercise in Pulau Pinang, Malaysia. A relevant questionnaire has been effectively adapted by inserting another section to assess the respondents' experiences regarding exergames. The modified questionnaire was used as the research instrument in this study. The sampling size consisted of 377 Malaysian high school students in Pulau Pinang, Malaysia. The five-section questionnaire provided statements and questions about the respondents' sociodemographic data and exergames' experiences, as well as their knowledge, attitude, and practice of exercise. The time frame was between October 2021 and January 2022. Data were analysed by using descriptive statistics of frequency and percentages. The association between gender, age and experience, knowledge, and attitude was examined using the chi-square test. p value of < 0.05 considered as statistically significant. Based on the quantitative results, 97.9% of the respondents have had adequate knowledge about exercise and 83.6% of the respondents displayed positive exercise attitudes. Approximately, half of the students allocated between 30 and 60 minutes daily to perform moderate-to-vigorous intensity workouts. However, a statistically significant difference was perceived in their experiences of exergames. Specifically, female respondents demonstrated that they have more experience than their male counterparts. Holistic efforts are essential to raise high-school students' awareness of exercise given its outstanding potential to enable children and adolescents' physical activity engagement.
Downloads
Download data is not yet available.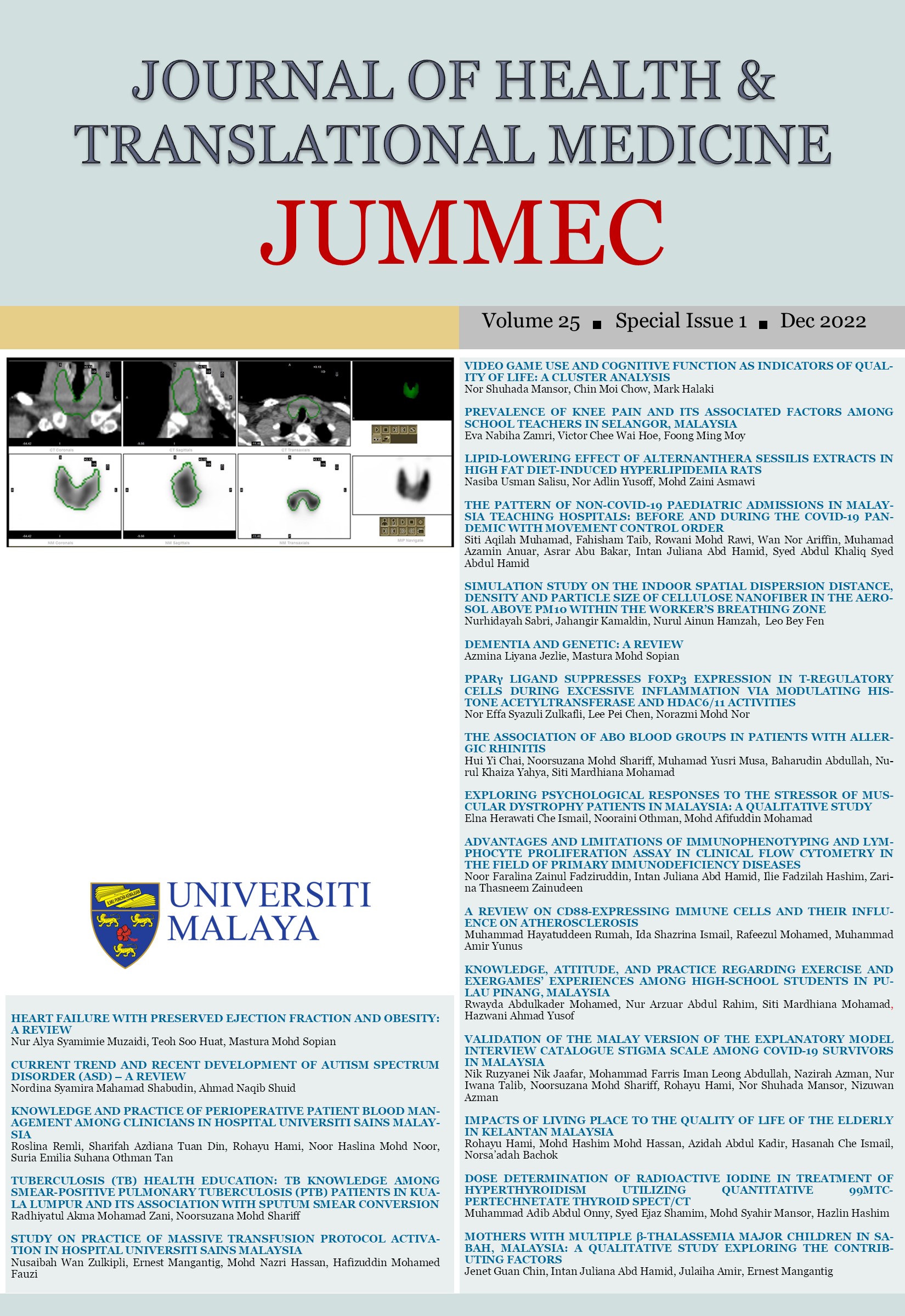 Downloads
License
All authors agree that the article, if editorially accepted for publication, shall be licensed under the Creative Commons Attribution License 4.0 to allow others to freely access, copy and use research provided the author is correctly attributed, unless otherwise stated. All articles are available online without charge or other barriers to access. However, anyone wishing to reproduce large quantities of an article (250+) should inform the publisher. Any opinion expressed in the articles are those of the authors and do not reflect that of the University of Malaya, 50603 Kuala Lumpur, Malaysia.