ANALISIS MAKNA LEKSIS SINGKOWOTON MENGGUNAKAN PENDEKATAN SEMANTIK RANAH BERSUMBERKAN DATA KORPUS BAHASA MELAYU
Effendy Yusuff

Anida Sarudin

Norliza Jamaluddin
Abstract
This research explores the preservation of lexis used in the tribal languages of
Sabah in the corpus of the Malay language. The data collected originate from
the Malay language corpus, which was developed by the researcher by using
Antconc 3.4.3w. The corpus was developed based on six Malay-language
novels with narratives based on Sabah tribes. Of 145 lexis of the tribal
language identified alongside the Malay language in the corpus data, one of
the lexis, singkowoton, was chosen for analysis. The analysis was conducted
with reference to the frame semantics coined by Charles Fillmore (1982). The
initial results of the study show that the linguistics theoretical approach,
specifically the semantic cognitive approach, observes the use of lexis semantic
of the tribal languages within the corpus of the Malay language. In addition,
the results inform the tribal understanding behind the usage of the lexis, as
well as the motivation, potential and reputation regarding usage of the lexis.
Keywords: lexis, tribal language, singkowoton, frame semantic.
Downloads
Download data is not yet available.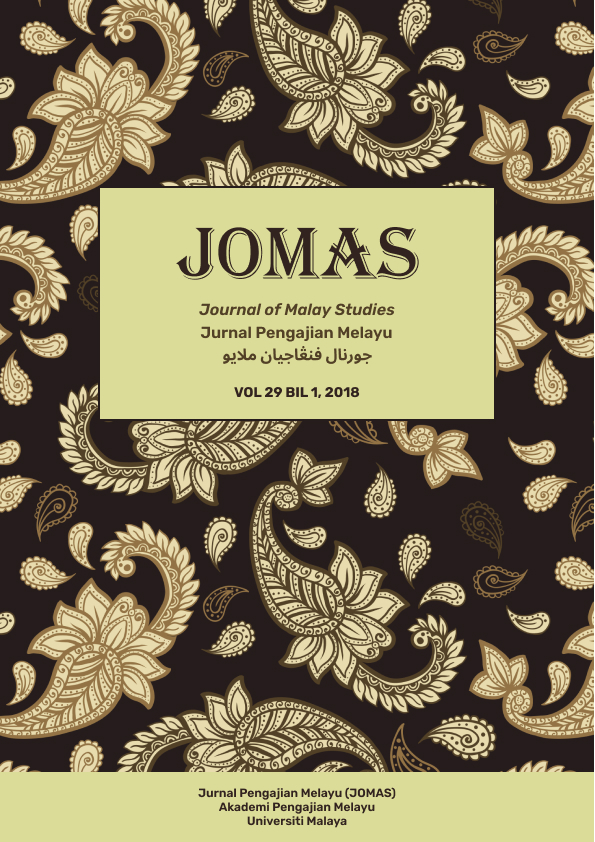 How to Cite
YUSUFF, Effendy; SARUDIN, Anida; JAMALUDDIN, Norliza. ANALISIS MAKNA LEKSIS SINGKOWOTON MENGGUNAKAN PENDEKATAN SEMANTIK RANAH BERSUMBERKAN DATA KORPUS BAHASA MELAYU.
Jurnal Pengajian Melayu
, [S.l.], v. 29, n. 1, p. 1-29, dec. 2018. ISSN 1823-7622. Available at: <
https://ejournal.um.edu.my/index.php/JPM/article/view/15361
>. Date accessed: 23 may 2019.