ANALISIS KATA SERAPAN BAHASA ARAB BERDASARKAN PEMBENTUKAN KATA BAHASA MELAYU
Noor Azlina Zaidan

Mohd Zaki Abd Rahman

Muhammad Azhar Zailaini
Abstract
This article discusses Arabic loanwords in Malay word formation (in Jawi
script), especially singular words. The data in the form of Arabic loanwords
were derived from the text books of Islamic Education Primary School, Years 1
to 6 (KSSR). Arabic loanwords were analyzed according to the method of
Malay word formation (consonant-vowel pattern) by Nik Safiah Karim
(2015). In analyzing the Jawi data, the Malay-Jawi-Rumi Glossary (DKBM)
was used as a basic reference and guidance for Jawi spelling. The findings
indicate that there is diversity in the pattern of vowel-consonant combination
of Arabic loanwords in the Malay language. Most of the consonant-vowel
patterns of the Arabic loanwords are not found among pure Malay words.
The study of Arabic loanword analysis based on Malay word formation is a
pioneering study of Arabic loanwords in Malay in terms of how it analyses
comparative patterns of vowels-consonants between the two languages, and
broadens the study of Malay language word formation and general knowledge
of Malay grammar.
Keywords: Arabic loanwords, word formation, Malay, pattern vowelconsonant.
Downloads
Download data is not yet available.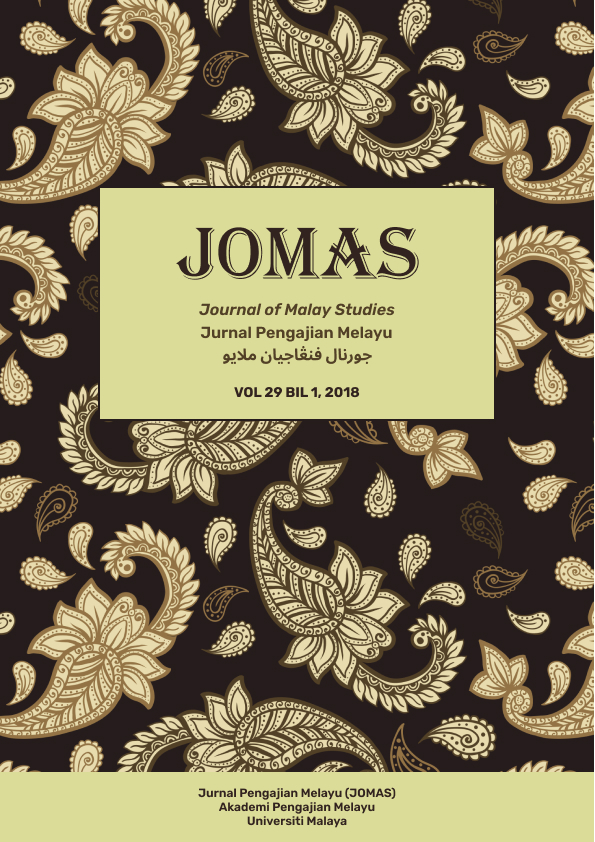 How to Cite
ZAIDAN, Noor Azlina; ABD RAHMAN, Mohd Zaki; ZAILAINI, Muhammad Azhar. ANALISIS KATA SERAPAN BAHASA ARAB BERDASARKAN PEMBENTUKAN KATA BAHASA MELAYU.
Jurnal Pengajian Melayu
, [S.l.], v. 29, n. 1, p. 78-101, dec. 2018. ISSN 1823-7622. Available at: <
https://ejournal.um.edu.my/index.php/JPM/article/view/15365
>. Date accessed: 21 nov. 2019.