BAHASA PANTANG LARANG MASYARAKAT MELAYU DAN HUBUNGANNYA DENGAN PRINSIP RELEVANS KOGNITIF DAN PRINSIP RELEVANS KOMUNIKATIF
Nur Diyana Zamani

Hasmidar Hassan
Abstract
Linguistic taboo is a form of language commonly used by societies in the past as
verbal rules to be accepted as dogma in daily life. Linguistic taboo was formed
by a society's beliefs based on their observations of the environment and its
causative nature. If a linguistic taboo is violated, disaster or bad things may
befall the individual. Past research on the usage of linguistic taboo focused on
the function or purpose of the language usage, and the usage as a reflection of
the wisdom and intellect of the Malays. However, research on why a linguistic
taboo was created and used by past societies have yet to be done. Therefore, this
paper aims to explain that the creation of linguistic taboo is not an arbitrary
decision, but one based on two main ideas of the Relevance theory: the Cognitive
Principle of Relevance, and the Communicative Principle of Relevance.
Linguistic taboos of past Malays societies constituted aspects of language that
were clearly evident and meaningful to its speakers. When the characteristics
of a language are meaningful to its speakers, then its advisory function to help
form a moral and civilized society is more effective.
Keywords: Linguistics taboos, Relevance theory, cognitive relevance principle,
communicative relevance principle and ostensibly.
Downloads
Download data is not yet available.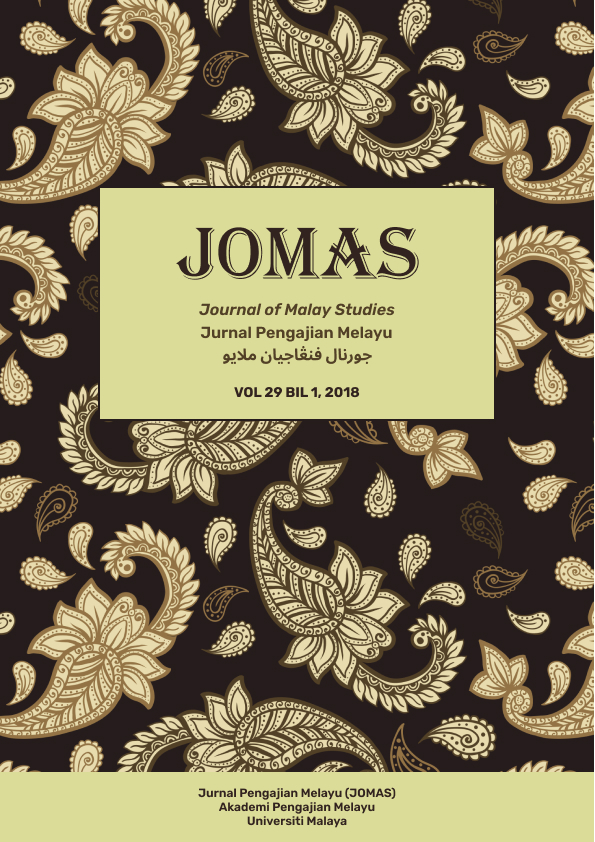 How to Cite
ZAMANI, Nur Diyana; HASSAN, Hasmidar. BAHASA PANTANG LARANG MASYARAKAT MELAYU DAN HUBUNGANNYA DENGAN PRINSIP RELEVANS KOGNITIF DAN PRINSIP RELEVANS KOMUNIKATIF.
Jurnal Pengajian Melayu
, [S.l.], v. 29, n. 1, p. 118-155, dec. 2018. ISSN 1823-7622. Available at: <
https://ejournal.um.edu.my/index.php/JPM/article/view/15368
>. Date accessed: 21 nov. 2019.