SAJAK-SAJAK BADARUDDIN H.O. BERTEMAKAN KETUHANAN: ANALISIS PENDEKATAN DAKWAH
Pg. Haji Yakup Pg. Ahmad

Mohamad Mokhtar Abu Hassan
Abstract
This paper analyses the poems of Badaruddin H.O., a famous poet of Brunei
whose work is Islamic-themed with particular reference to God. The works
examined include "Although Your Home In The Hereafter" (Meski Rumah
Mu Di Akhirat), "Istighfar Rejab" (Istighfar Rejab), "This Is Not My Baby"
(Ini Zat Bukan Bayangku), "Tsunami's Episodes" (Episod-Episod Tsunami),
"It's Fate" (Takdir Itu Begini), "In The Holy Night of Ramadan" (Di Malam
Kudus Ramadan), and "White Stick" (Tongkat Putih). His poems are then
analysed through a da'wah (missionizing) theoretical approach, which identifies
da'wah elements that display the majesty of God, and the gentle language style
that conveys the religious message.

Keywords: Malay methodology, da'wah, prophecy, rukun Islam, rukun Iman.
Downloads
Download data is not yet available.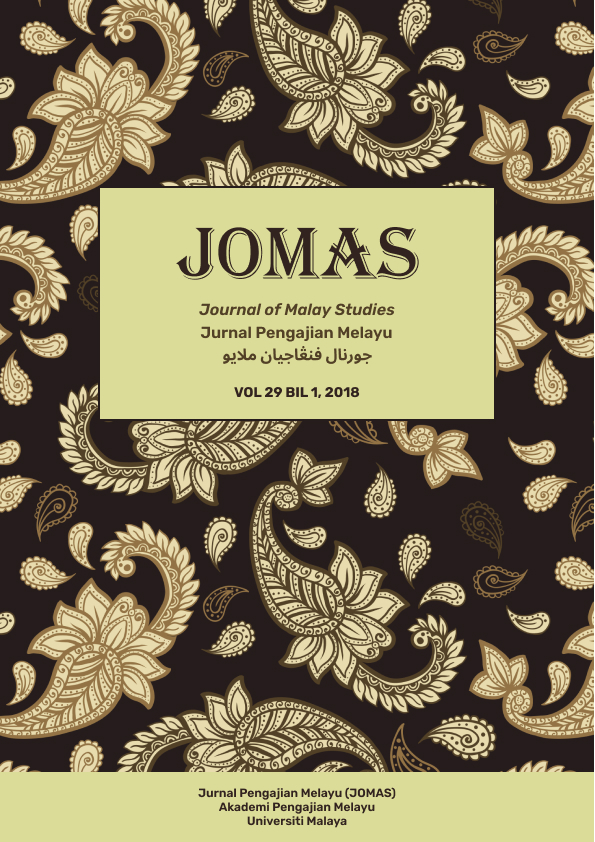 How to Cite
PG. AHMAD, Pg. Haji Yakup; ABU HASSAN, Mohamad Mokhtar. SAJAK-SAJAK BADARUDDIN H.O. BERTEMAKAN KETUHANAN: ANALISIS PENDEKATAN DAKWAH.
Jurnal Pengajian Melayu
, [S.l.], v. 29, n. 1, p. 156-180, dec. 2018. ISSN 1823-7622. Available at: <
https://ejournal.um.edu.my/index.php/JPM/article/view/15369
>. Date accessed: 21 nov. 2019.